Parent Involvement
Basic obligations of co-op families are:
Participation

A parent or guardian must participate one day per week for each child enrolled in the preschool. You are responsible for arriving on time, supervising and cleaning up your assigned area, and then attending a brief "end of the day" meeting with the teachers. Participating parents bring snack once every 6 weeks. In addition to working once a week, they are also "on-call" one day a month.
Family Jobs/Board Position
All families are required to hold an administrative position. These jobs vary but the average time commitment is 30 hours a year. Some administrative jobs, such as the board of directors and committee positions, have more responsibilities.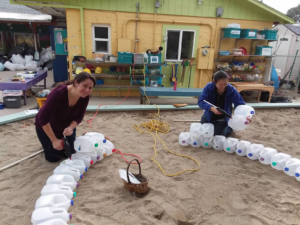 Membership Meetings
At least one family member must attend the monthly membership meeting, held at 7pm on the first Wednesday of every month.
Maintenance Work Party
At least one family member is required to attend a weekend work party three times during the school year.
Fundraising
Each family is required to raise $175 for the school by participating in fundraisers held through out the school year.
Community Outreach
Each family is required to work 3 shifts throughout the year. Two of those shifts are at an Open House or Yard Sale (five total events throughout the year; shifts 2 hours long). Messy Art Day Weekend is a required "All-Hands" event, and all families choose one set-up, day-of-the-event, or clean-up shift (shifts available over 4 days; shifts are 3 hours long).