Staff and Facilities
Our Staff
Both Directors in the Morning and Afternoon Programs have some administrative responsibilities, but spend most of their time working with the children. All staff members have the early childhood course work required by our licensing agency. In addition, they all have current first aid and CPR credentials. They attend workshops each year to stay abreast of current early childhood information and trends. We keep the adult to child ratio at 1:6, although we try to maintain a 1:4 ratio during the programs.
We have very little turnover of staff. Several of our teachers have been at the school for many years. Our morning Director Kathy Clark joined us in April 2012 and comes to us with 11 years teaching experience in cooperatives. Our afternoon Director, Jenny Byrne, is an alumna parent and joined our staff in 2008. Teacher Nga Bui, our wonderful former afternoon Director, was also an alumna parent and after teaching at ECPC since 1998, retired in 2021. We welcomed Jamie Boreen as a part-time teacher in both programs in the Fall of 2017. In December 2017, our beloved Teacher Par retired after 32 years of service to ECPC, and in January 2018 our membership unanimously voted to hire Jamie as a full-time morning teacher. Our staff bring cultural richness to the program and the children.
In 2008, we added a new staff Administrative Coordinator, Irene Ng.  Irene is a main point of contact for parents and provides continuity for both the AM and PM programs, and since 2017, oversees enrollment.
We are always looking for qualified substitute teachers. Click here for more information on available teaching positions.
---
The Grounds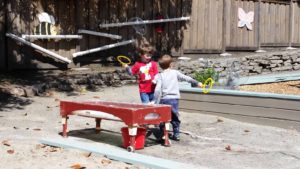 We have two large outside play yards. Our front yard has both sand and tanbark areas where children can choose to use tricycles, swings, climbing structures, or engage in creative free play. In our backyard we have a rope climbing structure, a play house, and more opportunity for sand and water play. Children may also explore our Native Plant Gardens where our children interact with nature including planting, watering, and consuming a variety of vegetables, as well as building fairy gardens. Throughout the day we install ever changing art and tactile areas where children can create and play.
There are many indoor areas for active and quiet play. Children may choose our Art Room with four different hands-on art stations where a variety of materials are always accessible. In our Game Room, we have tons of puzzles, games, dress up clothes, and musical instruments. There is also a quiet corner for reading and story telling. Our Loft Area has an indoor structure where children can play above the ongoing block building, train tables and make-believe house play. We have many bookshelves and sensory tables placed throughout the school, with contents that change daily.
During program hours, with very few exceptions, the children are free to use any and all our areas to whatever purpose they design. We don't program their activities. We work carefully to curate the environment, and then let the children engage in whatever play they see fit.